Vietnam Won Covid-19 War by Acting Decisively
Vietnam, a country of 96 million people which shares a border with China, is signaling that it has succeeded where many wealthier and more developed countries have not by containing the new coronavirus. 

As on30 April, Vietnam has a coronavirus death count of zero and only 270 cases. While the mortality numbers climb into the hundreds of thousands across the world, Vietnam has managed to contain the outbreak of coronavirus through timeliness, aggressive infection control, mass mobilisation of its population and an unprecedented level of openness. 

Its slightly more populous regional neighbor the Philippines, in comparison, has reported almost 30 times as many cases and more than 500 deaths.

Out of the key factors that contributed to Vietnam's successful coronavirus response, timeliness was the first. Vietnam acted early and did not hesitate to alert its citizens. On 28 January, when the country recorded only two cases, the government announced that it was planning for a scenario in which thousands of people could contract the virus.

In the following weeks, Vietnam continuously imposed restrictions and issued policies ahead of and sometimes against the WHO's recommendations, such as a series of international travel bans and the compulsory wearing of face masks.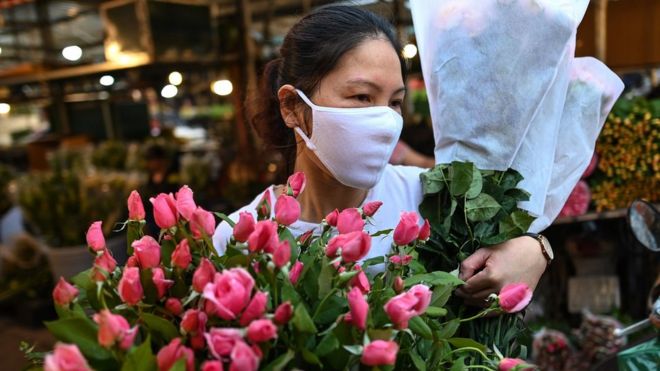 In late January, the WHO was advising against international traffic restrictions – and to this day, it still stands by the recommendation that face masks are not necessary for the general public.

Due to limited treatment infrastructures, the Vietnamese government has focused on mass testing and aggressive contact tracing – a tactic it had employed to fight Sars 17 years ago.
Only this time on a larger scale. As of 30 April, Vietnam had conducted 261,004 tests and put tens of thousands of people in isolation.
Testing and contact tracing is based on a four-level principle announced by the health ministry:
1. Confirmed Covid-19 patients and their direct contacts (level 1: isolation and treatment in hospitals);

2. Close contacts with level 1 (level 2: quarantine facilities);

3. Close contacts with level 2 (level 3: self-quarantine at home);

4. Lockdown of the neighbourhood/village/town where the patient lives (level 4).

Adhering to this principle has meant testing a massive number of suspected cases for every new patient.

So far, Vietnam has tested nearly 800 people for each new confirmed case, the highest ratio in the world, according to Reuters data. Vietnam was able to make its own test kits and has even exported the kits to Europe and the US.



Vietnam made it clear at the beginning of the pandemic that it wanted to protect its reputation as "a safe country". Yet by being open with its people, the government has achieved more than just safeguarding its image; it has rebuilt public trust.
With Vietnam opening up its economy, it has gained an advantage compared to others as it returns to business. While normal business operations will never be the same, thanks to Vietnam's recovery, global manufacturers looking to diversify their supply chains will increasingly look to Vietnam.

While Vietnam is not out of the woods yet, it has prepared itself in case of a second outbreak. Vietnam can now make 7 million fabric masks and 5.72 million surgical masks a day, while Vingroup has stated that it can produce 55,000 ventilators a month. Vietnam has also readied new hospitals equipped with the required medical equipment in case needed.

Investors can, therefore, be assured that while Vietnam has opened up its economy, it continues to remain vigilant and ready to meet the challenges posed by COVID-19.